CONTACT US TODAY AND GET A FREE QUOTE
Amphibious Excavator For Sale
Are you looking for an amphibious excavator for sale? You are on the right page. An amphibious excavator is one of the most important things you need if you work on a construction site or provide construction services. 
An amphibious excavator or pontoon excavator is a heavy-duty machine used to dredge in different places of need. As a construction site working machine, an amphibious excavator is made with great precision and strength. These excavators are manufactured and polished for providing a better and easier working experience to people who work at construction sites. Furthermore, for maintaining cleanliness in the sea, excavators can be a great help. Either you want to clean the shorelines or a tiny lake or waterway, these excavators offer a big helping hand.
These excavators are made while ensuring that they can work in all conditions, such as in swampy or wet areas, without slipping. At Amphibious Excavator US Distributor, we manufacture these heavy-duty machines, excavators. Our experts closely monitor the whole manufacture process to ensure that no stones were left unturned to make our excavators the best construction machine you ever used. 
So, whether you are looking for a pontoon excavator or some other kind of excavator, you can always contact us. We believe in the quality of the products. When our customers reach out to us to buy an excavator, we know they want to reduce their burden. Our products, therefore, will not need excessive repairing or maintenance in a short time. We take pride in saying that our machines always deliver the work we promise before selling them.
Contact Amphibious Excavator US Distributor today!
Do you want to dredge an extremely uneven terrain? Do you think it will be hard because the land is rocky and muddy? We think you may need a floating excavator. At Amphibious Excavator US Distributor, we manufacture heavy-duty excavators that can help you through these challenging situations.
Our machinery is safe and efficient to work anywhere, anytime. That is why we have an excellent record of satisfied customers using our machines to make their lives easier. All of the machines manufactured at Amphibious Excavator US Distributor, are passed through various checkpoints while they are getting manufactured. Every step is closely monitored to ensure the best quality of the machines.
After manufacturing, our experts and engineers run the machines through different quality tests, where these excavators are tested for toughness, stability, versatility, and much more. An excavator's most important quality is a good balance because the excavator's main job is to ease up the dredging process safely. If it does not provide excellent stability, it does not matter what other features it offers because you won't be getting anywhere with that excavator.
At Amphibious Excavator US Distributor, pontoons are manufactured with great care and attention to detail so that each model of our excavators gets the best-suited foundation. Pontoons differ from one model to another, so you get the best working experience with whatever model you purchase, depending upon your needs.
Stop worrying about dredging, remediating, and other challenging tasks when Amphibious Excavator US Distributor offers you the best excavators with the highest flotation level.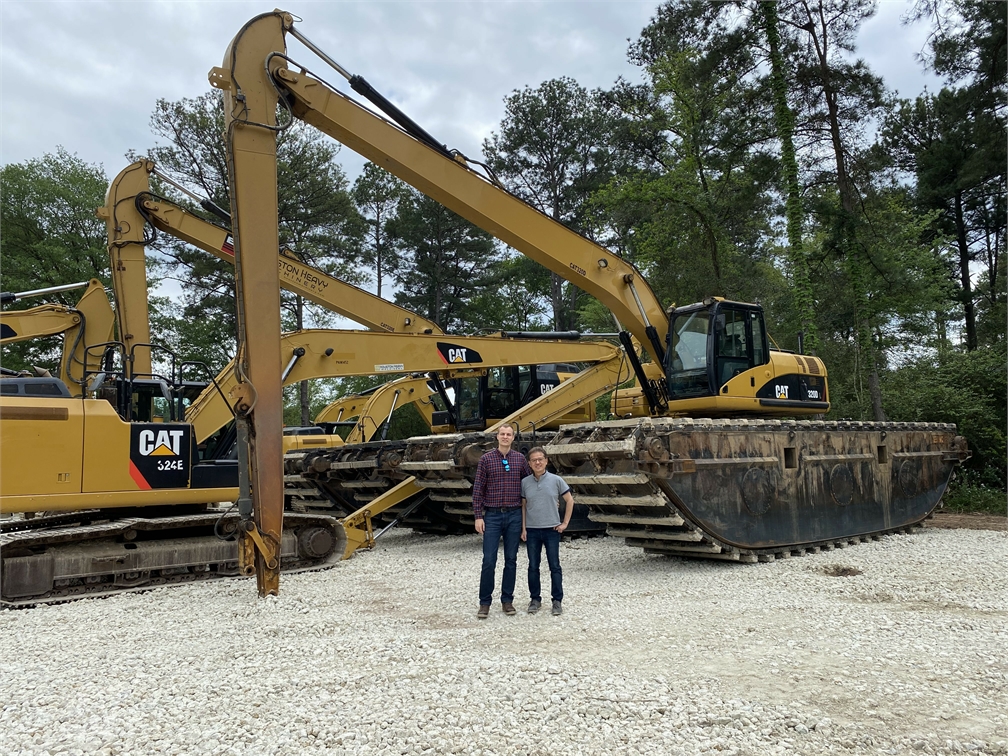 If you are installing water pipelines, doing oil exploration, constructing a highway, or working at other such swampy areas, you need a marsh excavator. Marsh excavators are beneficial machines for disaster rescue, forestry, swamp logging, land reclamation, or levee construction.
These machines are made to provide the workers a good grip in swampy regions and stay stable through the working process. These machines efficiently work in fragile ecosystems, offering incredible amphibious capabilities and high torque motion while consuming only a small bit of ground pressure. Furthermore, they are safe to carry around heavy loads in a damp environment.
At Floating excavators – SERG, we build machines that are capable of working in diverse ecosystems without any changes in their performance. We deliver what we promise before we sell you something. Our machines have a proven record of delivering quality services to the workers. Our expert technicians ensure that the machines are safe to work with so our client does not experience any personal or professional losses. 
So, stop stressing more about your job at highway construction sites or pipeline installation sites. We, Floating excavators – SERG, are bringing you marsh excavators to get half the work done for you and boost your confidence and security level. Get yourself an excavator today at super-affordable rates, and watch your job ease up for you!