CONTACT US TODAY AND GET A FREE QUOTE
Amphibious Excavator US Distributor
Today's world is far different from how it used to be back in our grandparents' days. Back then, a team of hundred laborers could work day and night to build an average highway. However, that was because of the lack of technology and required machinery. The times have changed now. Today, the world is moving fast, and it is almost illogical to spend weeks of hard work building something you can complete in a few days by using modern machinery.
Amphibious Excavator US Distributor started to provide this machinery at affordable prices and a wide range of designs and sizes. We started by manufacturing floating excavators, and today we also manufacture swamp excavators, marshbuggy, and amphibious excavator for sale.
Do you want to dredge an incredibly uneven terrain? Do you believe it would be difficult due to the rugged and muddy terrain? We believe you may need a floating excavator. Anywhere, at any time, our machinery is secure and effective. That is why we have a long list of happy customers who have relied on our machines to make their lives easier. 
At, Amphibious Excavator US Distributor, we put all of our machines through a series of inspections as they are installed. Every step is meticulously controlled to ensure that the machines are of the highest possible quality. After manufacturing, our experts and engineers put the excavators through a series of quality tests to ensure their durability, stability, and mobility, among other things.
Contact Amphibious Excavator US Distributor today!
AMPHIBIOUS EXCAVATOR - WHY CHOOSE US?
Unlike many other famous companies, we do not mind answering why a customer should use our service to buy amphibious excavators. We believe in 100% transparency so, we know that it is our customer's right to ask us why he should purchase or rent from us. Here is a list of some reasons that separates us from the crowd;
FLEXIBLE SOLUTIONS FOR PAYMENTS
We are well aware that the economy has suffered a lot through the Covid-19 virus globally. Almost everyone faced financial losses. Therefore, the need for flexibility in payments increased more. Our company's policy is customer-friendly, and our representatives communicate with every customer to find out a payment solution that suits them nicely. Our rates are super-affordable, and once you purchase or rent a machine, we sign a contract with you. The contract contains all details regarding warranty, payments, etcetera. There are no hidden conditions in the contract, so you only pay what's written on it.
TECHNICAL AID AND GUIDANCE
Excavators are extensive machines. When a person buys it, they may find it hard to understand and operate. Our technicians quickly brief them about the machine and help them in operating it. The parts and operating style of the machine is explained to the customers. Our experts also guide customers about which machine would suit them best and why. This help costs nothing to our customers but builds a strong relationship of trust with us.
MODERN DESIGN MARSHBUGGY
Marsh excavator and other swamp equipment that we manufacture are modern designs built with great precision and attention to detail. We ensure that our customers get the most updated version of machinery that also lies within their budget. These marsh buggies are primarily used in damp conditions, such as when you are installing pipelines or doing forestry. The swamp equipment focuses on using a minimal magnitude of ground forces to carry heavy objects while standing firmly on the slippery grounds.
LONG-LASTING MACHINERY
Different types of excavators may have different lifetimes. One thing that remains constant, though, is our extended warranty and excellent customer care. Our customers love us because we show precisely as much dedication towards them as possible. From basic training to explaining warranty contracts, everything is done specifically to make the whole machine-buying process easier for you.
EASY CONTACT
We are easily accessible through emails or calls, and we do not keep our customers waiting even after they purchase something from us. We believe that good communication is the solution to a fantastic experience for customers, so we answer all your queries at our earliest. Being available at your service is one of the most important things that make us stand out. We take pride in being great communicators and the best excavator providers.
Sometimes, during highway construction or levee construction, or forestry, extreme dredging can be needed. This deep dredging needs excavators, but those that do not slip when the land gets damp. So, a swamp excavator can come in handy in such situations.
At Amphibious Excavator US Distributor, we manufacture swamp excavators too. Since these excavators are supposed to work in a marsh and damp environment, these machines are made more carefully than others. The pontoon in these excavators is solid and rough so that they do not slip on the watery mud or rocky lands either. In addition to this, these excavators only consume a small magnitude of the force from the ground and retain its stability throughout the operation. These excavators should be dealt with more attentively because of the conditions they are operated in. The drivers should be fully trained and knowledgeable about the excavator's working system.
Our professional engineers and technicians guide you comprehensively when you come to us. They tend to go in small details and significant differences of excavators that distinguish one model from another. Then, after you purchase a specific model of a certain excavator, they will show you how it works. They will guide you about different things you should be focusing on and things you can choose in specific situations.
Lastly, our representatives ensure that you leave us with no questions or confusions. We further ensure your satisfaction by providing extended warranties. If you rent an excavator, we ensure that you are happy with your rent before leaving, so our representative discusses the rent payment process in depth.
Do you want to buy an excavator today? Contact us now!
Contact Amphibious Excavator US Distributor today!
A pontoon excavator is a heavy-duty machine that is used to dredge in various locations. It is a construction site working machine that is constructed with great precision and strength. Excavators like these are designed and polished to give construction workers a safer and more comfortable working atmosphere.
This heavy-duty equipment, excavators, are manufactured by us at Amphibious Excavator US Distributor. These excavators are designed to operate in various environments, including swampy or wet areas, without slipping. Our engineers keep a close eye on the entire manufacturing process to ensure that no stone is left unturned in making our excavators the finest construction machines you have ever seen.
Furthermore, excavators can be very useful in preserving the cleanliness of the sea. These excavators come in handy if you're cleaning the shorelines of a small lake or waterway too. Therefore, the pontoons are assembled with some manholes, which can help in maintaining the machine properly.
An excavator's track system consists of the shoe, chain, roller, lock, and bushing. These components work together to provide a stable framework for your excavator. Precise tolerances regulate the track system. Our expert engineers complete all of this work in a carefully measured manner. As a result, these components ensure improved weight distribution and a solid pulling force through the track shoes. Furthermore, the shape has been designed to provide full force in both damp and dryland environments.
Do you want to buy or rent a pontoon excavator? Or are you confused about which excavator is required for your job site? Let experts at Amphibious Excavator US Distributor guide you before you purchase an excavator.
Call us today! GET A FREE QUOTE!
AMPHIBIOUS EXCAVATOR FOR SALE
Working in damp conditions can be frustrating and time-consuming, but amphibious equipment can help you save time and effort by simplifying the method. In today's world, relying solely on human resources for construction, installation, disaster protection, and maintenance work is fraught with danger. If you want to complete large tasks in a shorter period, you'll need to enlist machines' help.
So, Amphibious Excavator US Distributor offers amphibious equipment for sale and rent. We produce amphibious equipment for sale with meticulous attention to detail and subject it to numerous tests. Stability, versatility, ease of use and repair, and technical requirements are all checked. As a result, our products would not need extensive repair or maintenance in a short period. We are proud to say that our machines always perform as promised before being sold. Our amphibious excavator is also available in several sizes and configurations.
Our company has transparent policies, so you would know what you are signing up for when you purchase something from us. There are no hidden clauses that can affect your business' performance in the future. Our top priority is your protection, so we ensure that the excavators' structure can deliver what we promise. The pontoons we use are strong and provide the maximum degree of flotation for our customers.
If you are working on landscape construction and protection or soft terrains, our amphibious excavator has you covered!
AMPHIBIOUS EXCAVATOR FOR RENT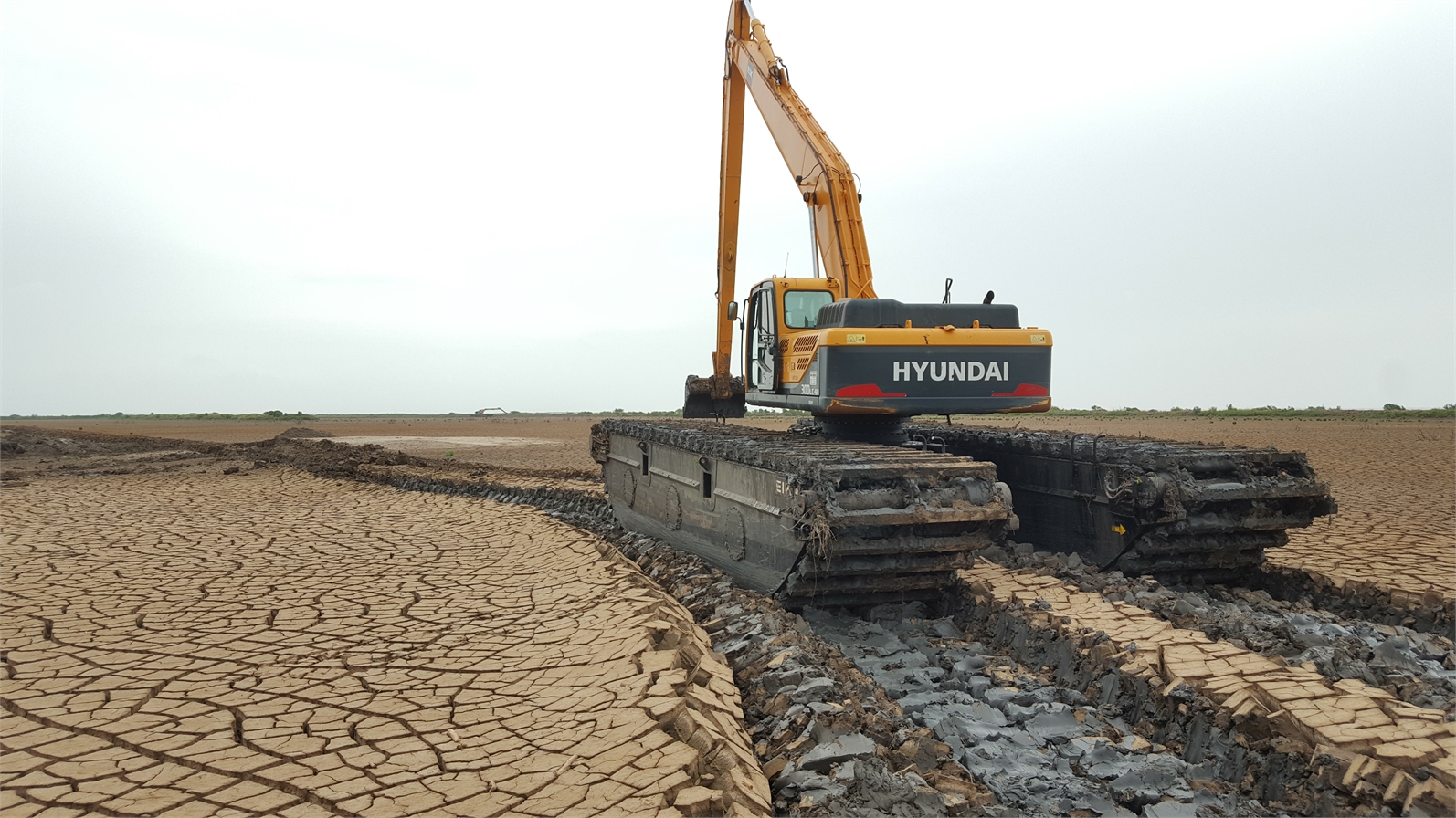 An amphibious excavator can make a significant difference, but what good is it if you can't afford one? As a result, Amphibious Excavator US Distributor lets companies and workers having low budgets go towards getting an amphibious excavator for rent. Excavators aim to speed up the process while also increasing laborer protection. Mainly when working on projects like disaster relief and repair, levee building, erosion control and prevention, oil and gas piping installation, and other similar projects.
Machines are almost a must these days. The world we live in today is vastly different from what it once was, and it is no longer possible to depend solely on laborers. An excavator is a good choice for complex dredging activities in harsh environmental conditions. As a result, we ensure that everyone will benefit from this machine regardless of their financial condition.
Our policies are simple to comprehend, and our rent is very fair. When our customers come to use our services, we create open lines of communication with them. Via contact, it becomes easier for consumers to settle on rent agreements that better meet their needs.
Furthermore, our excavators are manufactured with great precision, ensuring no injuries occur at your job sites. We provide comprehensive information about a particular excavator before selling it to you, so you know exactly what you are getting into. Accidents, on the other hand, are dependent on how well the machine is operated. Therefore, we suggest that you operate amphibious equipment smartly.
MARSH BUGGY FOR SALE/RENT
You will need a marsh buggy if you are installing water pipes, conducting oil exploration, building a highway, or operating in other swampy areas. Using a marsh excavator, you can easily do disaster relief, forestry, swamp logging, land reclamation, and levee building, all such extensive tasks. Additionally, you can use it at complex construction sites too.
We want you to get the most out of your investment when you buy a Amphibious Excavator US Distributor's machine. As a result, we have provided our dealers with the tools, expertise, and assets they may need to ensure that your excavators run at their best all of the time. Our suppliers can provide you with extended warranty options and contract terms, as well as routine maintenance guidance and help with parts and materials, in addition to technical knowledge. In a nutshell, they will assist you and your company during the life of your Amphibious Excavator US Distributor's machine. They will go above and beyond to keep track of your equipment's condition. 
So, what are you waiting for? Forget worrying about your work on the highway or at the pipeline installation site today! Bring ease into your life by purchasing an excavator from us or rent it at affordable rates. The best thing about our rental packages is, they only last until you return the machine. After that, we do not bother our customers to pay any extra amounts of money. 
Do you want to ask something else? Or do you want to make a purchase? Let us know! We await your calls.